Welcome to the Nordic Women in Tech Awards, an annual event organized by WonderCoders to recognize and celebrate the achievements of female role models who are leading the movement for more women in tech in the Nordic countries.
Our mission is to highlight exceptional female figures and share their successful stories with the wider public, inspiring the new generation of women who want to pursue challenging and exciting careers in the tech industry. By recognizing and honoring those who pave the way for more female presence in tech, we aim to help women realize their full potential and turn their career dreams into achievable goals. At the same time, we want to emphasize that everyone is welcome and encourage diversity and inclusivity in the industry.
To learn more about the award process and the categories for nominations, please browse our website. Don't forget to follow us on our social media channels to stay updated and join us in celebrating the achievements of inspiring women and supporting a more diverse and inclusive tech industry in the Nordic countries.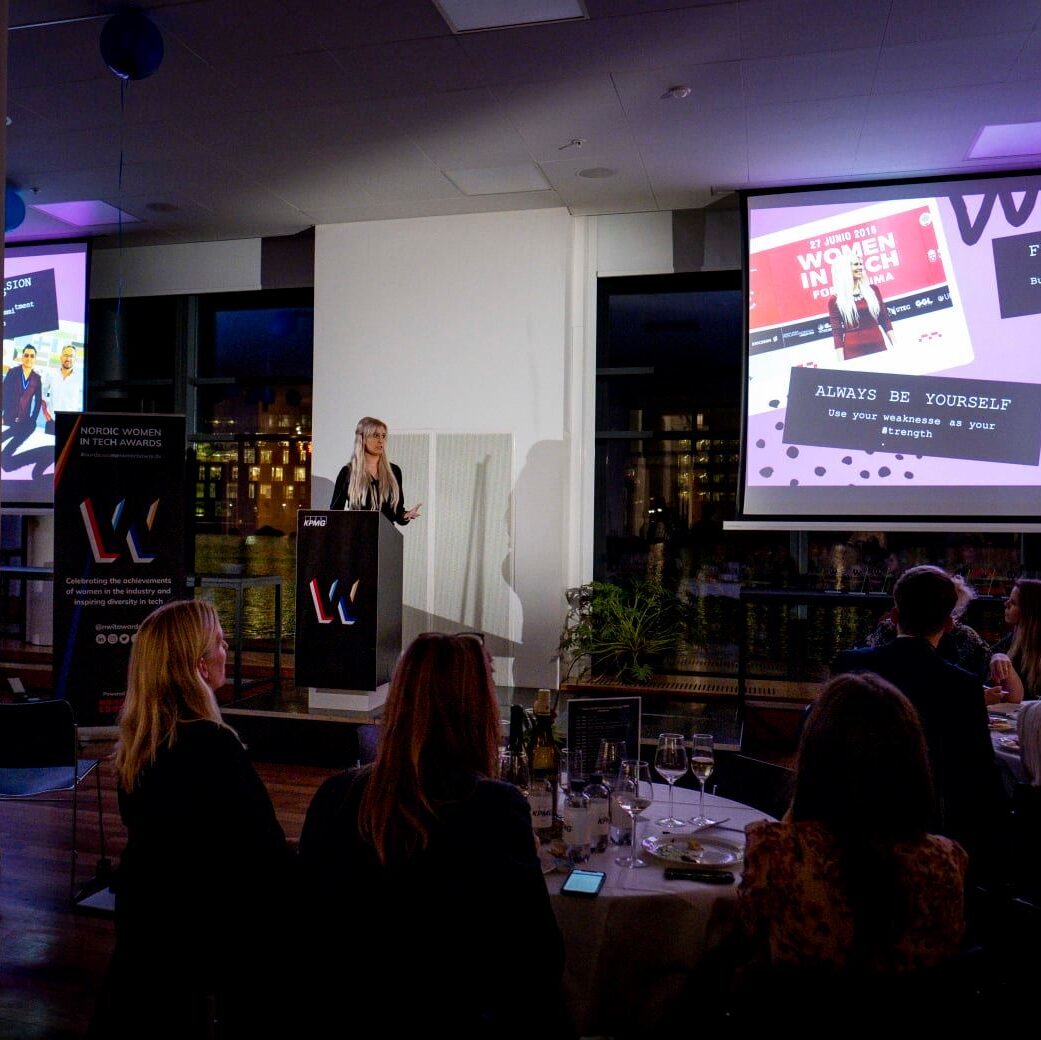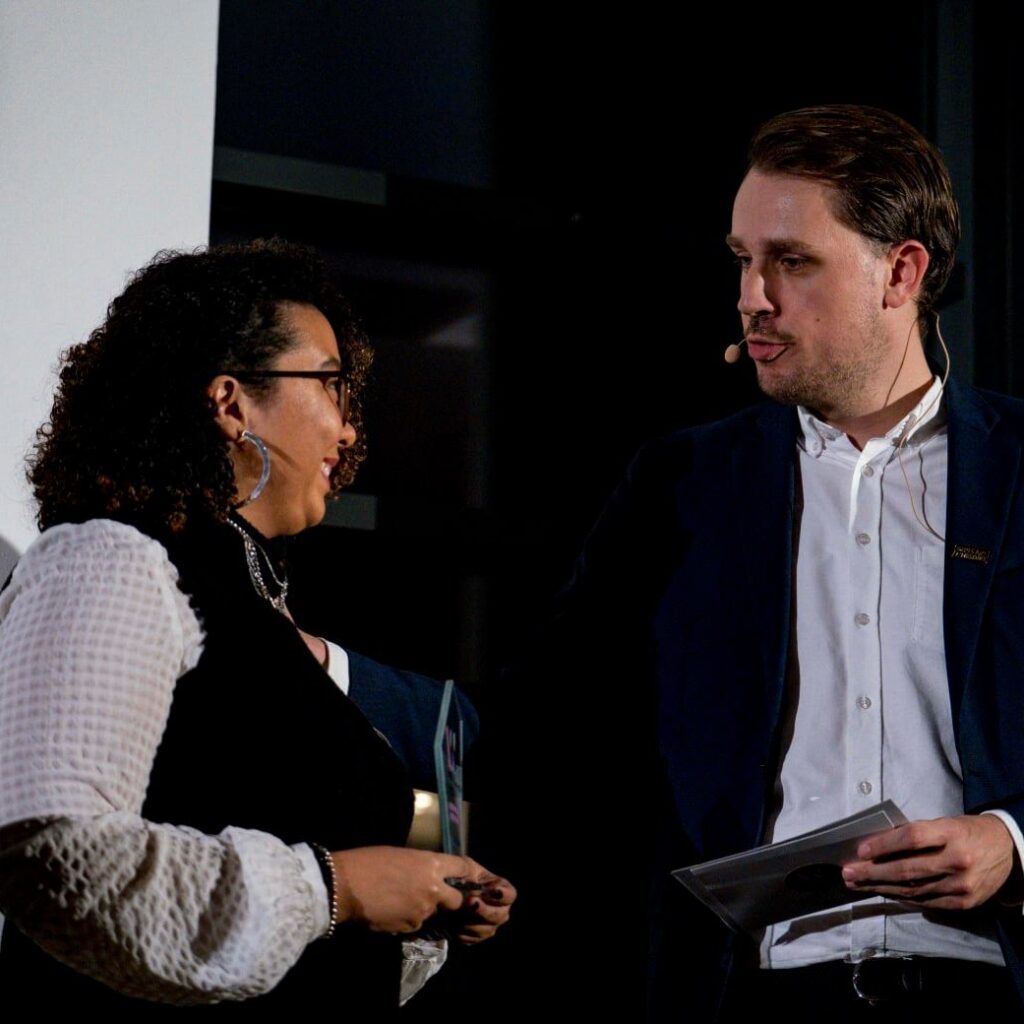 From nominations to awards
The Nordic Women in Tech Awards is more than just an event; it's a movement dedicated to recognizing and celebrating the achievements of women in the tech industry. We believe in the power of diversity and inclusivity, and we know that recognizing outstanding female role models is an essential step towards creating a more equitable and innovative future for the tech community.
That's why we open nominations early in the year, so that everyone – including you – can nominate someone who inspires them across several categories. We make it easy to participate – all you need to do is tell us who you're nominating and why they deserve to be recognized and awarded.
After the summer deadline, we carefully review all the nominations and create a shortlist of nominees. Our Local Judges committee, made up of industry leaders, will then select five finalists per category. These remarkable finalists will be contacted directly, and their information will be shared on our social media platforms for everyone to see.
But it doesn't end there. Before the gala event, our official Global Judges committee, comprising top-tier industry professionals, will vote online on our platform to choose the final winner for each category. These winners will be announced at the Nordic Women In Tech Awareds Gala ceremony, an unforgettable evening where we come together to celebrate the trailblazing women who are shaping the future of the tech industry.
Don't be afraid to nominate someone, and don't hesitate to ask someone to nominate you. We want to hear about the inspiring women who are driving change in the tech industry and recognize their invaluable contributions. Best of luck to all the nominees – we can't wait to celebrate with you!
As more and more women take the road less traveled, they pave the way for future generations to innovate, create, develop, and inspire. These women take action and make an impact in an industry dominated by men. At the Nordic Women in Tech Awards, we strive to put these trailblazers in the spotlight.
Our goal is to act as a megaphone for these outstanding women and amplify their voices in an industry that is in dire need of more creative solutions and fresh perspectives. By shining a light on their achievements, we hope to inspire the next generation of women to take on the challenge of a career in tech and to help create a more diverse and inclusive industry. Join us in celebrating these remarkable women and their contributions to the tech community.
The Nordic Women in Tech Awards celebrate and recognize female role models who have made outstanding contributions to the tech industry. By highlighting their individual and collective achievements, we aim to promote their success and inspire others to follow in their footsteps. Our event is also a platform for exchanging experiences, networking, and enhancing the growth of the community.
We believe in the power of diversity and inclusivity, and our ultimate goal is to make a positive contribution to the tech industry by inspiring the next generation of diverse and talented tech professionals. Join us in celebrating and supporting these remarkable women as we work together to create a more inclusive and innovative future for the Nordic tech community.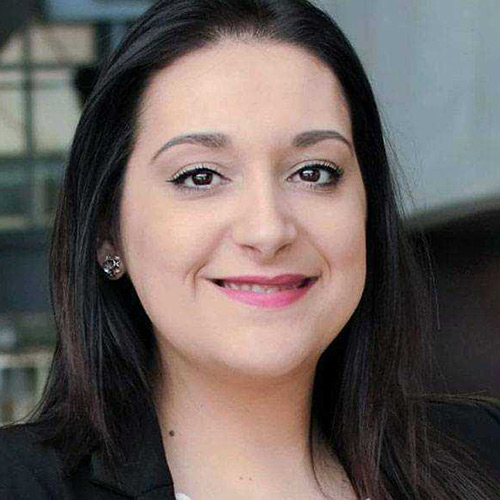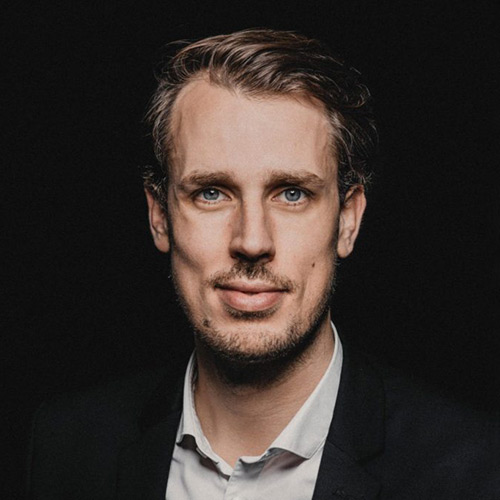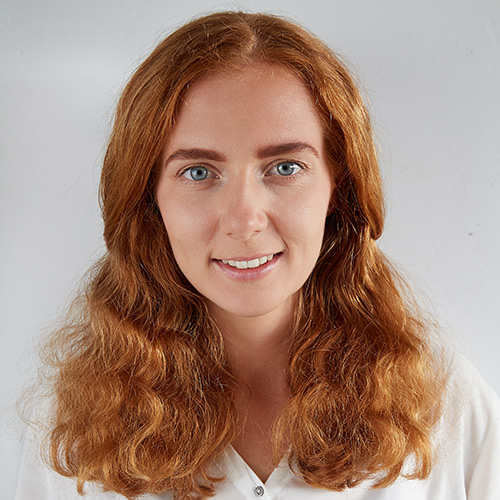 Co-founder & Organizational Manager